Record no Hi 2022 "FORTUNE TOWN feat. WODDYFUNK / Winter Cross" MV Short Ver is now available!
Media
MV Short Ver of "FORTUNE TOWN feat. WODDYFUNK / Winter Cross" to be released at "Record Day 2022" on December 3.
This album is reminiscent of "Earth, Wind & Fire" on the A-side, a Christmas song with a steppin' groove that takes you through the colored streets of the city. The horn section that blares from the intro of this upper tune adds to the holiday spirit.
Featuring "WODDYFUNK," aka "Queen of Talk Box," the song is an excellent collaboration with her soulful performance on the talking modulator.
The B-side features "Winter Cross," a medium ballad with the comfort of an 80's AOR sound. The song gently envelops the listener in a world of lyrics depicting the intersection of seasons, people, and growth in the clear air of fragility, making this a magnificent work of art.
Please enjoy these two songs, which have the same "winter" theme but are expressed with completely different approaches.
<Product Overview>
AMANE TRiLL 5th 7inch Single
「FORTUNE TOWN feat. WODDYFUNK / Winter Cross」
AMC-085 / ¥1650-
Azabudai Music Communications / VIVID SOUND
2022.12.3 Release【Record Day 2022 Participating Works】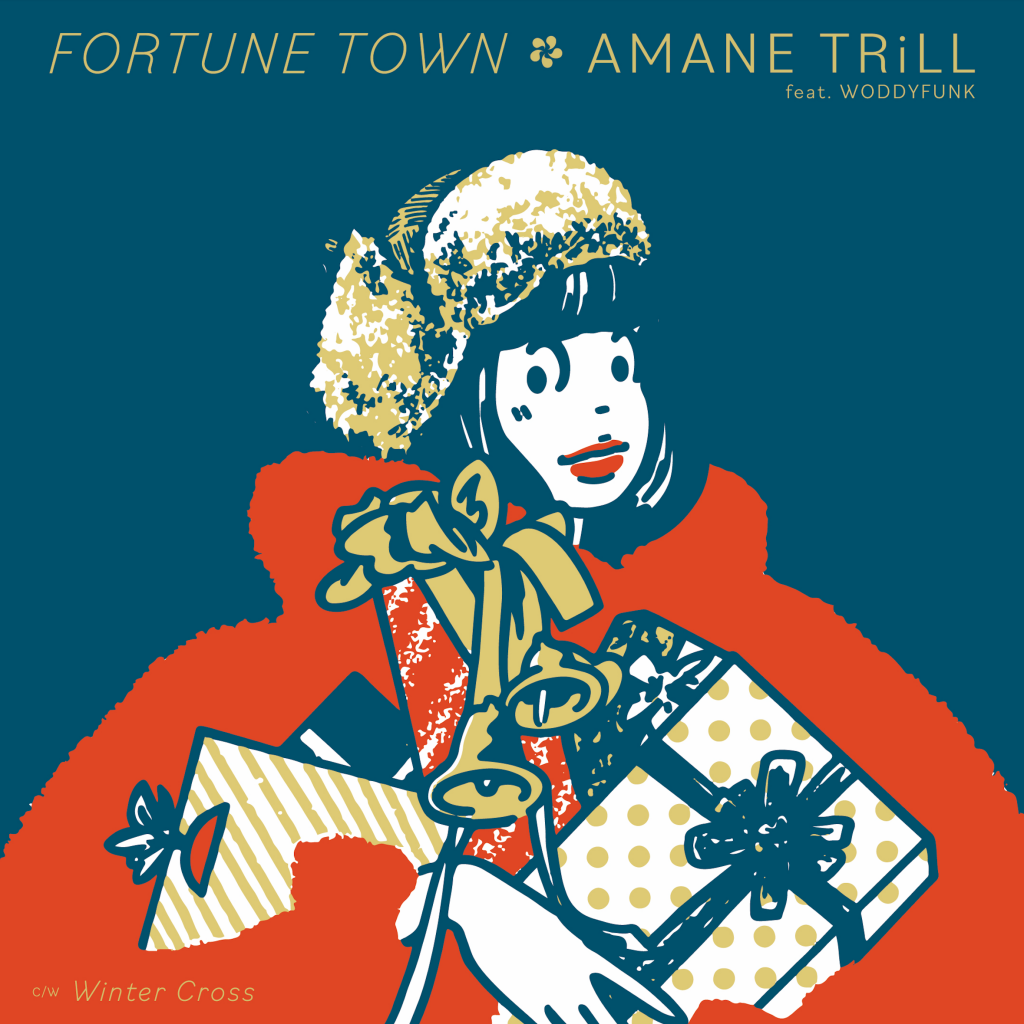 ーーーーーーーーーーーーーーーーーーーーーーー
▽「FORTUNE TOWN feat. WODDYFUNK」
MUSIC & LYRICS WRITTEN by AMANE TRiLL
Masahiro:VOCAL, ACOUSTIC GUITAR, 12st ACOUSTIC GUITAR, CHORUS & SLEIGH BELLS
Yujin:VOCAL, ELECTRIC GUITAR & CHORUS
WODDYFUNK:TALK BOX
Kaoru Inoue:KEYBOARDS, PROGRAMMING, SHAKER & CHORUS
Aguri Hayashi:ELECTRIC BASS
Tatsuhiko Yoshizawa:TRUMPET
Ryoji Ihara:SAXOPHONE
Amane Takai:TROMBONE
PRODUCED by AMANE TRiLL & Kaoru Inoue
HORN SECTION ARRANGED by Kaoru Inoue
<Short Music Video>
Animator | VELUNA
illumination | Kazuki Komatsu
ーーーーーーーーーーーーーーーーーーーーーーー
▽「Winter Cross 」
MUSIC & LYRICS WRITTEN by AMANE TRiLL
Masahiro:VOCAL
Yujin:ELECTRIC GUITAR
Kaoru Inoue:KEYBOARDS & PERCUSSIONS
Aguri Hayashi:ELECTRIC BASS
Ryo Ebihara:DRUMS
Ryoji Ihara:SAXOPHONE
PRODUCED by AMANE TRiLL & Kaoru Inoue
<Music Video>
Director|Hiroshi Usui
Director of photography|Yosuke Omori
Assistant Camera|Tomohiro Yamashita(SPICE)
Hair Make|Yuki Tsuriya
Car|Vanbra Motors
PM|Akehiko Kumagai
Production|Zinc.inc
ーーーーーーーーーーーーーーーーーーーーーーー
RECORDED & MIXED by Tetsuya Kaneshige
ASSISTED by Satochika Fujii
RECORDED at Studio FINE, AMC Studio
ART DIRECTION & DESIGN:Hajime Sakurai